Join Us
The AIF Summit will provide an opportunity for AIF Members and other business leaders from across the state to discuss policy and advocacy issues with members of Congress. You'll hear insights into today's complex legislative and regulatory landscape as we dig deep on the issues that directly impact Florida and your business.
Policy & Advocacy
| | |
| --- | --- |
| • | Tax Reform and Insurance Regulation |
| • | Federal Regulation on Florida Water Policy and Land Use |
| • | Changes to the Health Care System |
| • | Opportunities and Challenges to Florida's Transportation, Ports and Infrastructure |
| • | Manufacturing, Aerospace and Defense |
Networking
| | |
| --- | --- |
| • | Network with other Business Leaders |
| • | Exclusive Access to Key Congressional Leaders |
| • | Updates from Policy Experts from NAM on Business Issues |
For more information please contact AIF President & CEO, Tom Feeney at tfeeney@aif.com or by phone at (850) 224-7173.

May 7th Sponsor's Dinner Guest
Congressman Mario Diaz-Balart (R)
Chairman of the Subcommittee on Transportation, Housing and Urban Development
Read Full Bio
Congressman Mario Diaz-Balart is currently fulfilling his 8th term in the U.S. House of Representatives, serving Florida's 25th congressional district. Diaz-Balart is a senior member of the House Committee on Appropriations and is chairman of the Subcommittee on Transportation, Housing and Urban Development, in addition to serving on the State, Foreign Operations, and Related Programs and the Defense Subcommittees. Diaz-Balart also serves on the House Committee on the Budget. He passionately serves his constituents, acting tirelessly in defense of individual rights and liberties, promoting economic prosperity, and supporting a strong national defense. He is well known for his advocacy of human rights and democracy around the world, as well as for his staunch support of our global allies.

May 8th Breakfast Speaker
Congressman Lamar Smith (R)
Chairman of House Committee on Science, Space and Technology
Read Full Bio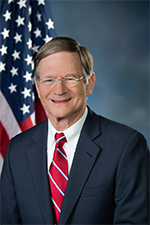 Lamar Smith represents the 21st Congressional District of Texas.
He serves as Chairman of the Science, Space, and Technology Committee, which has jurisdiction over NASA, the Department of Energy including its 17 national laboratories, the Environmental Protection Agency, the National Science Foundation, the Federal Aviation Administration, and the National Institute of Standards and Technology.
The Committee oversees agency budgets of about $40 billion, where the primary focus is on research and development.
CONGRESSIONAL Speakers
(as of April 20, 2018)

Congressman
Charlie Crist
(D-Florida)
Congressman
Ted Deutch
(D-Florida)
Congressman
Neal Dunn
(R-Florida)
Congressman
Matt Gaetz
(R-Florida)
Congressman
Al Lawson
(D-Florida)
Congressman
Brian Mast
(R-Florida)
Congressman
Bill Posey
(R-Florida)
Congressman
John Rutherford
(R-Florida)
Congressman
Darren Soto
(D-Florida)
Agenda
(as of April 12, 2018)

May 7th

2:00 - 5:30 pm
High-Level White House Policy Briefings
Location: Eisenhower Executive Office Building, Indian Treaty Room, 1650 Pennsylvania Avenue NW
5:30 - 7:30 pm
Welcome Reception with Florida's Congressional Members
Co-Hosted with The Florida Internet & Television Association
Location: Capitol Hill Club, Eisenhower Room, 1st Floor, 300 1st Street SE
7:30 pm
VIP Sponsor's Dinner (Sponsors Only)
Location: Capitol Hill Club, Lincoln/Grant Room, 4th Floor, 300 1st Street SE

May 8th

8:00 - 9:30 am
Breakfast with Chairman Lamar Smith
Briefing on Science, Space and Technology from Committee Members
Location: Room 2325 Rayburn House Office Building
10:00 am - 12:00 pm
Congressional Policy Briefings
Location: Room 121 Cannon House Office Building
12:30 - 1:30 pm
Lunch with Guest Speaker
Location: Capitol Hill Club, Eisenhower Room, 1st Floor, 300 1st Street SE
1:30 - 3:30 pm
Policy Briefings from Congressional Members and Policy Experts from the National Association of Manufacturers
Location: Capitol Hill Club, Eisenhower Room, 1st Floor, 300 1st Street SE