October 3, 2003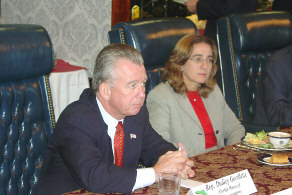 Rep. Goodlette listens to questions and 
comments from members
Rep. Dudley Goodlette (R-Naples), the cerebral real-estate lawyer from Southwest Florida, says he enjoys public service for the intellectual stimulation it provides and for the satisfaction that comes from achieving meaningful results. The Naples Republican was the guest at AIF's second Power Lunch.
Goodlette serves as policy chair for the Florida House of Representatives and, since his election in 1998, and has earned a reputation as the person who can take on the tough tasks and carry them through to fruition.As one of the meeting attendees told his colleagues, "If you want to avoid traffic and get through Naples, you take Goodlette Road. It's the same way with the Legislature."The conversation with Goodlette was wide-ranging, putting on display the representative's depth knowledge and his ability to apply calm reason to thorny questions. Goodlette fielded questions on
AIF President & CEO Jon Shebel and
Vince Rio of State Farm talk with Rep. Goodlette
property and casualty insurance, water supply and consumption, transportation infrastructure, meeting the state's energy needs, and state budgeting pressures. The topic of greatest concern to the business people gathered around the table, however, was constitutional amendments, specifically those that appear on the ballot through petition drives."There are 52 ballot initiatives registered with the secretary of state," noted Jon L. Shebel, AIF's president and CEO. "And virtually every industry in the state of Florida faces extermination by at least one of them."While most of these initiatives will not make it onto the ballot, some will, and the consequences - intended and otherwise - that they would wreak if adopted will reverberate throughout the economy and into the workplace of every business person.
Goodlette considers reform of the citizen initiative process a critical matter for Florida. He revealed that House Speaker Johnnie Byrd (R-Plant City) shared his concern and was planning to assign review of the matter to Goodlette's policy committee.
Members enjoy lunch while Rep. Goodlette
addresses the group
In his role as member of the House Select Committee on Affordable Health Care for Floridians, Goodlette also fielded a number of questions and comments on the dilemma employers face when it comes to offering group health coverage as an employee option. Several of the attendees offered innovative suggestions that Goodlette promised to consider.
Health insurance and citizen initiatives will remain two of the business community's top priorities in the coming months. As today's Power Lunch revealed, employers will have a welcome ally in Dudley Goodlette.
Power Lunch allows AIF members who also pay dues to Florida Business United (FBU) to meet with political leaders in an informal setting. FBU is the political arm of AIF.