February 21, 2008
General McCollum, Sen. Crist and Rep. Troutman join a statewide coalition to support legislation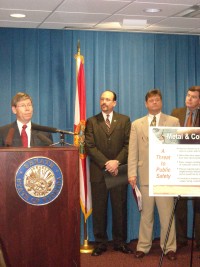 Attorney General Bill McCollum (R) attends Metal Theft Press Conference; also pictured from left to right are Senators Victor Crist (R-Tampa) and Lee Constantine (R-Altamonte Springs) and Orlando City Commissioner Robert Stuart.
TALLAHASSEE, Fla. – Rep. Baxter Troutman (R–Winter Haven) and Attorney General Bill McCollum joined Sen. Victor Crist (R-Tampa) and Sen. Lee Constantine (R–Altamonte Springs) today to unveil legislation for the 2008 Session in an effort to deter secondary metal theft, a surging crime trend. Thieves across Florida are stealing everything from empty beer kegs and irrigation equipment, to copper wire from utility sites. Stolen property is not the only issue of concern as anyone coming in contact with electrical wiring stands in serious danger.
"Our communities, local businesses, and home owners are all negatively affected by this issue," stated Sen. Crist. "If we want to deter crime, we have to implement policies that restrict criminalopportunity. That is exactly what this bill does."
Sen. Crist's SB 748, which mirrors Rep. Troutman's HB 105, aims to crack down on this costly and dangerous crime by deterring unscrupulous scrap metal yard dealers from buying stolen copper and metal products from thieves. In addition, Sen. Constantine has also drafted similar metal theft legislation, SB 556.
Rep. Troutman, a citrus grower in Central Florida, was a victim of metal theft earlier this year when expensive irrigation equipment and a water pump were ripped from his citrus groves.  The criminals caused thousands of dollars in damages to his property and placed thousands of citrus trees at risk. In many other Florida cases, wires have been stripped from schools, churches, tower sites and power substations.
"These criminals are creating increased costs to consumers, homeowners, and businesses at a time when Floridians cannot endure or afford the expensive repairs associated with these crimes," said Rep. Troutman. 
"This criminal trend is not only destructive, it is dangerous," said Attorney General McCollum. "I applaud our legislative leaders for their proactive stand against this issue." The nationwide trend of metal and copper theft is a direct result of metal's increased worldwide demand and rising prices. Stolen copper and secondary metals can quickly be sold for cash to a scrap dealer, who will pay 85 to 90 percent of the market price:
In 2005, copper was $1 per pound, compared to $3 to $4 per pound in 2007
Beer keg scrap value increased from $5 a keg to $40 a keg in 3 years
Business losses from metal theft hover around $1 billion
Sen. Victor Crist (R-Tampa), one of the bill sponsors, addresses the media. Also pictured are Representatives Sandy Adams (R-Oviedo) and Baxter Troutman (R-Winter Haven), sponsors of the legislation in the House.
The group also included Rep. Sandra Adams (R, Oviedo) and Sen. Charles Dean (R, Inverness) who have also drafted similar legislation, HB 799 and SB 1384, which specifically penalizes metal thieves who target communication or utility providers. The legislation would make damaging a provider's facility or interrupting its service a first degree felony, regardless of the value of the stolen metal. 
"The epidemic of copper wire theft affects everyone and HB 799 gives law enforcement and prosecutors another tool in preventing this crime," said Rep. Adams. "Power outages and disruption of services cause not only disruption in business but disruption in emergency response. When thieves affect thousands of Floridians they should be tried as felons no matter what the resale value."
In addition, Floridians for Copper & Metal Crime Prevention, a coalition of Florida business leaders, and agricultural and law enforcement groups joined the state lawmakers today in support of the legislation and call for a crack down on the metal theft epidemic.
"Businesses and homeowners are suffering the consequences with damaged property and costly repairs," said Keyna Cory, Floridians for Copper & Metal Crime Prevention spokesperson. "But even more important, is the need to keep all Floridians safe. Every time there is an attempt to steal copper wire or metal products, the potential is there for serious injury or death – not just to the thief, but also to our employees and customers."
"When wires are tampered with people who rely on home medical devices may lose power, and when phone lines are disrupted citizens may be unable to reach help in a life threatening emergency," said Sen. Dean. "Bottom line, this bill will save lives."  
SB 748, SB 556 and HB 105 create a paper trail to catch thieves and punish the limited group of scrap dealers who are the root of the problem. The legislation would require secondary metal dealers to keep detailed records of their scrap metal transactions including:
Name and/or description of person from whom the goods were acquired  
Address and workplace
Verify personal identification cards
Home and work phone numbers
A thumbprint
Vehicle information and photograph
Videotape or digital image of the regulated metals being sold

"Florida needs to be promoting recycling for its positive environmental impact and energy savings," said Sen. Constantine. "However we must ensure standards are being met for the collection of recyclable metals and that our efforts aren't providing an easy opportunity for criminal activity."
If the legislation is approved during the 2008 Session, unscrupulous metal dealers who do not provide the required information and receive stolen property can be charged with a felony of the third degree. An estimated 19 other states have now passed similar laws.
---
Floridians for Copper & Metal Theft Crime Prevention
Coalition members include:
American Fire Sprinkler Association
Alarm Association of Florida
Anheuser-Busch Companies
Asphalt Contractors Association of Florida
Associated Builders & Contractors of Florida
Associated Industries of Florida
AT&T
Beer Industry of Florida
Coors Brewing Company
City of Orlando
Embarq
Florida Associated General Contractors
Florida Association of Electrical Contractors
Florida Building Material Association
Florida Carpenters Regional Council
Florida Electric Cooperatives Association
Florida Farm Bureau
Florida Fire Equipment Dealers Association
Florida Home Builders Association   
Florida Municipal Electric Association
Florida Nursery, Growers and Landscapers Association
Florida Refrigeration & Air Conditioning Contractors Association
Florida Retail Federation
Florida Roofing, Sheet Metal & Air Conditioning Contractors Association
Florida Solar Energy Industries Association 
Florida Swimming Pool Association
Florida Telecommunications Industry Association
Florida Transportation Builders Association
Florida Wall & Ceiling Contractors Association
FP&L
Gulf Power
Hillsborough County
Independent Electrical Contractors of Florida
Miller Brewing
TECO
Underground Utility Contractors of Florida
United Pool & Spa Association