February 15, 2011
One of the top issues facing legislators this year is the state's budget.  The state of Florida continues to face a steep budget deficit in the range of $4 to 4.6 billion dollars.  One of the major factors contributing to this budget deficit is the cost of the state's Medicaid program.  For FY 2011-12, the Medicaid Program is expected to cost $22.1 billion, which is over one-third of the state's entire budget.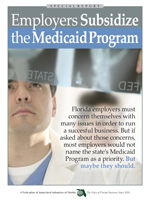 AIF has long been a supporter of efforts to reform the Medicaid program. Last year, the House of Representatives passed a Medicaid reform package that was strongly supported by AIF as a way to lower the cost-drivers in the system. Unfortunately, the legislative session ended before an agreement could be reached with the Senate. This year, efforts are under way in both chambers to pass meaningful reform. AIF will be at the fore-front of this issue, but we need our members to be engaged as well. We hope you will find this special report informative in understanding how the increasing costs of the current Medicaid system affect employers and employees across our great state.
As the "The Voice of Florida Business," AIF strongly believes that the cost shifting from the Medicaid program to private employers cannot continue. We encourage all AIF members to become educated on this critical issue for the business community and ask their elected officials to pass meaningful Medicaid reform this year. Should you have any questions please don't hesitate to contact Jose L. Gonzalez, AIF's Vice-President of Governmental Affairs at 850-224-7173 or via email at jgonzalez@aif.com.