From September 12th – 14th, Associated Industries of Florida's (AIF) hosted its 2012 Annual conference at the Rosen Shingle Creek in Orlando. This year's conference kicked-off with the AIF Foundation's 4th Annual Golf Tournament, followed by a well-attended Champions for Business awards ceremony and reception. Over 20 members of the Legislature were present with our members to honor the business community's top supporters, also known as "Champions for Business," during the 2012 law making session. Attendees included Speaker-designate Will Weatherford (R-Wesley Chapel), Senator Ellyn Bogdanoff (R-Ft. Lauderdale) and Representative Steve Crisafulli (R-Merritt Island) among others.
Annual conference meetings commenced on Thursday morning with guest speakers ranging from business executives to legislative leaders and political experts, including:
An overview of 2012 state legislative races by House & Senate leadership. Participants included Speaker-designate Will Weatherford, Senate President-elect Don Gaetz (R-Niceville), Incoming Senate Minority Leader Chris Smith (D-West Palm Beach) and Incoming House Minority Leader Perry Thurston (D-Ft. Lauderdale).
Ryan Tyson, AIF's Chief Political Officer, provided detailed predictions and analysis of voter trends as it relates to state legislative races. 
AIF hosted some of the business community's top experts in the arena of health care including top legislative officials, healthcare executives and employers to address the current state of health care in Florida.
Representative Denise Grimsley (R-Sebring) provided a detailed analysis of legislative findings concerning the current state of healthcare and initiatives to provide quality care and access.

Harris Rosen, President & Chief Operation Officer of Rosen Hotels shared his vision of a unique, employer-funded healthcare system. His vision was put in to practice in the early 1990's and has generated significant cost-savings and efficiency in the delivery of health care services.

Craig Kurtzweil, National Director of Consumer Analytics and Solutions for United Healthcare, concluded with a health care provider perspective on health care delivery - both in the present and potential for the future.
Jacob Stuart, President of Central Florida Partnership, outlined the clear and present danger that businesses face under the Orange County Petition Drive for "Paid Sick Leave."
AIF also hosted a panel of experts to address the impact of constitutional amendment initiatives slated to be voted on by Floridians on the 2012 General Election Ballot. Representative Eric Eisnaugle (R-Orlando) joined business leaders on a panel to discuss the impact of Amendments 4 & 10 related to the increase in personal property tax exemptions for small businesses and property taxes for non-homestead properties, respectively.
Three of the Legislature's newest faces joined AIF for a panel discussion on what initiatives they will undertake as upcoming members of the Florida House. Panelists included Representative-elect Shevrin Jones (D-West Park), Representative-elect Charlie Stone (R-Ocala) and Mr. Neil Combee (R-Lakeland).

In addition to the 2012 Annual Conference meetings, AIF hosted breakfast and lunch speakers including soon-to-be elected state Senator Rob Bradley (R-Gainesville) and Senator-elect Wilton Simpson (R-Trilby). AIF members were also privileged to hear from Dr. Ted Yoho who overwhelmingly defeated incumbent Congressman Cliff Stearns in the Republican Primary for Congressional District 3.
AIF President & CEO Tom Feeney presents incoming Senate President Don Gaetz (R-Niceville) with a Champion for Business award.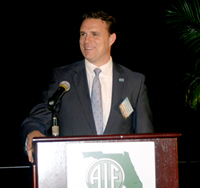 Speaker-designate Will Weatherford (R-Wesley Chapel) addresses over 100 of Florida's business executives, legislative leaders and lobbyists during the 3rd Annual Champions for Business award ceremony.
Representative Denise Grimsley (R-Sebring) provides members with an overview of the current state of healthcare in Florida and legislative initiatives to improve quality and delivery.
Soon-to-be elected Senator Rob Bradley (R-Gainesville) and Senator-elect Wilton Simpson (R-Trilby) layout their proposed initiatives during an Annual Conference breakfast meeting.