December 5, 2012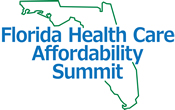 Tallahassee, Fla. – The 2013 Florida Health Care Affordability Summit will feature highly-knowledgeable and influential leaders and stakeholders in the health care industry to serve as panelists to address the challenges and opportunities for Florida"s health care delivery system. The Summit, which will take place at the World Center Marriot in Orlando, Fla., on January 10-11, 2013, will also serve as an open forum to help establish potential health care modernization proposals to provide for accessible, affordable and high quality health care to all Floridians.
Representatives from impacted parties of Florida"s health care reform will participate in a series of panel discussions to assess the overall cost-drivers in Florida"s health care system and multiple ways to ease the financial burden on Florida"s businesses and employers. Confirmed panelists are:
Brian R. Klepper Ph.D. - Chief Development Officer, WeCare TLC, LLC. Dr. Klepper is the chief development officer for WeCare TLC, LLC and managing principal for Healthcare Performance, Inc. An active author and speaker, Dr. Klepper has provided health care commentary to CBS Evening News, The Wall Street Journal, the New York Times, the New York Daily News and The Washington Post. He has published articles on Kaiser Health News, Medscape, Healthleaders, among other trade and news publications nationwide.
Jay Wolfson Ph.D. - Professor of Public Health & Medicine, University of South Florida. Dr. Wolfson is the distinguished service professor of Public Health and Medicine; associate vice president for Health Law, Policy and Safety, and director of the federally designated Suncoast Center for Patient Safety at the University of South Florida in Tampa. Dr. Wolfson is also a professor of Health Law at Stetson University College of Law and serves as the project director and principal investigator for PaperFree Florida.
John McFadden Ph.D. – Interim Dean, College of Health Sciences, Barry University. Dr. McFadden currently serves as the interim dean of Barry University"s College of Health Sciences. He is a certified registered nurse anesthetist (CRNA) with master"s degrees in health care administration, nursing, and anesthesiology, and a Ph.D. in nursing. Dr. McFadden has served in numerous elected and appointed leadership positions, including hospital administration, association and foundation boards, and policy development groups. In 2009, he was named the AANA Program Director of the Year and received the Sigma Theta Tau Excellence in Leadership award.
Holli Ploog - Vice President, CGI Government Markets. Ploog brings more than 25 years of leadership experience and a proven track record of driving market share, revenue and profitable growth in public sector and healthcare markets. As vice president within the CGI Government Markets group, Ploog is responsible for the state health and human services practice and CGI"s end-to-end offerings in this space. Ploog and her team have introduced new solutions and services around healthcare reform with the development and implementation of Health Insurance Exchange, Integrated Eligibility, Health Information Exchange, and Provider Payment solutions.
Jason Delimitros - Chief Operating Officer, Sunshine State Health Plan, a subsidiary of Centene Corporation (Centene). Delimitros brings more than 15 years of executive experience in the health care industry, during which he has held a successful track record of leading transformational change and growth. Prior to becoming the COO of Sunshine State Health Plan, Delimitros held numerous leadership roles within Centene, including COO of Peach State Health Plan and vice president of health plan operations for the Medicaid Division.
Rose M. Naff - Chief Executive Officer, Florida Health Choices, Inc. With a career that began in state government at the Florida Department of Insurance, Naff is a proven leader and innovator in the area of health care policy, eligibility, outreach, insurance and health care finance. In 1990, Naff joined the Florida Healthy Kids Corporation, and over the course of 18 years, she developed the corporation into a national model.
"We are extremely excited by the interest and momentum the Summit has been gaining," said Tom Feeney, AIF president and CEO. "Florida is in great need for a comprehensive and thorough conversation on the direction health care reform should take in order to make sure we are taking care of our residents in the best and most cost-efficient manner possible.
Participating panelists will discuss the following topics throughout the course of the Summit:
Providing Affordable Care for Floridians
Holding Florida"s Health Care System Accountable
Removing the Mystery from Health Care Financing
Modernizing Florida"s Health Care Delivery System
Creating Efficient Distribution Channels & Innovative Products in Health Care
Increasing Access, Consumer Choice & Competition in Florida"s Health Care Market

Moderating the selected panels throughout the course of the Summit, will be some of the most instrumental members of the Florida Legislature in the creation of health care reform proposals for the 2013 Legislative Session. Confirmed moderators are:
Senator Aaron Bean (R-Fernandina Beach) - Chair, Senate Health Policy Committee
Senator Denise Grimsley (R-Sebring) - Chair, Senate Appropriations Subcommittee on Health & Human Services
Senator Joe Negron (R-Stuart) - Chair, Senate Committee on Appropriations and Senate Select Committee on Patient Protection & Affordable Care Act
Representative Richard Corcoran (R-New Port Richey) - Chair, House Health & Human Services Committee
Representative Matt Hudson (R-Naples) - Chair, House Health Care Appropriations Subcommittee
Representative John Wood (R-Winter Haven) - Chair, House Health & Human Services Committee

"The caliber of our participants is truly a testament of the influential role the Summit will play in driving the conversation on health care reform to ensure that quality of care and patient access to care is never compromised," said Feeney. "The Summit will certainly serve as a springboard to take us in that direction."
Sponsors of the 2013 Health Care Affordability Summit include Aetna, Ashford University, AT&T, AvMed Health Plans, Florida Association of Nurse Anesthetists, Florida Blue, Health Management Associates, Humana, Sunshine Health, Tenet Healthcare Corporation, United Healthcare and WellCare Health Plans.
For the latest updates on the Summit agenda and events, please visit www.healthcareflorida.com. You can also "like" us on Facebook and follow us on Twitter @FLHealthCare.