July 14, 2015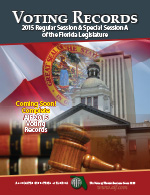 Tallahassee, Fla. – The Associated Industries of Florida (AIF) today released its "2015 Voting Records" report, which allows employers to gauge how Florida legislators are casting votes on bills that affect their businesses.
For the last 40 years, AIF has published its Voting Records – the definitive legislative scorecard for the business community, calculating more than 197,259 votes on 1,827 bills with 798 legislators.
"Each year, AIF advocates for issues before the Florida Legislature that put Florida's businesses and families first," said AIF President & CEO Tom Feeney. "This year, we are pleased to report that the Florida Senate voted in favor of the business community 94 percent of the time, while the Florida House of Representatives voted favorably 86 percent of the time."
"We applaud the Governor and the Florida Legislature for continuing to ensure our state's economic climate remains competitive by way of lower taxes, job creation, streamlining regulations and increasing opportunities in the marketplace," said Feeney. "We thank them for their efforts during the 2015 Legislative Session and Special Session to pass a balanced budget that included more than $400 million in tax cuts, most notably a reduction in the Communications Services Tax, as well as funding of the most critical environmental needs through Amendment 1 dollars."
"Floridians from the Keys to the Panhandle will benefit from policies this session that foster a pro-growth, business environment," said AIF Senior Vice President State and Federal Affairs Brewster Bevis. "AIF recognizes the 13 elected officials who voted in favor of the business community 100 percent of the time. We appreciate their commitment to make Florida a better place to do business, and we look forward to working with all lawmakers in the coming year to make Florida an even stronger place for employers and employees."
According to the 2015 Voting Records, which provides a transparent snapshot of the mood of the Florida Legislature on business issues, a total of 35 Senators and 72 Representatives voted in favor of AIF and the business community 90 percent of the time or more. An electronic version can be found at here.
In addition to the Voting Records, AIF will be announcing its 2015 Champion for Business Awards, which recognizes elected officials who have proven to be strong and forceful advocates for Florida business.
For more information on AIF, please visit AIF.com and follow @VoiceofFLBiz.
# # #