January 8, 2016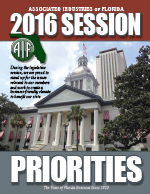 Tallahassee, Fla. – The Associated Industries of Florida (AIF) today released its "2016 Session Priorities" publication, which outlines its legislative agenda on behalf of its members for the 2016 Legislative Session. This year, AIF will lead the way for businesses when it comes to policies pertaining to water through its H20 Coalition, workers' compensation via its Workers' Compensation Coalition, Information Technology with its IT Council, and energy by its Florida Energy Council and Mineral Rights Working Group.

"We are pleased to release our '2016 Session Priorities' publication that outlines the focus of our advocacy efforts for this session," said AIF President and CEO Tom Feeney. "During the 2016 Legislative Session, we are proud to stand up for the issues relevant to our members and work to create a business-friendly climate to benefit our state. Among the myriad of issues before the Florida Legislature, we intend to focus on water, workers' compensation, Information Technology and energy, among others."
In addition to the key issues outlined above, AIF expects to see numerous legislative proposals that revolve around Governor Rick Scott's $79.3 billion budget proposal for FY 2016-17 that will foster a pro-business environment and have a positive impact on Florida employers and employees. As the Florida affiliation of the National Association of Manufacturers, AIF joins the Governor in calling for a reduction in the business rent/commercial lease tax, permanently eliminating sales tax on manufacturing machinery and equipment, and permanently eliminating income tax on manufacturing and retail businesses.
"This year, Florida leaders have an opportunity to elevate the state and make it the gold standard for 49 other states by adopting a budget that includes a pro-growth, pro-jobs tax cut agenda," continued Feeney. "One billion dollars in tax cuts will help accelerate job growth and prosperity for our state."
"AIF congratulates Governor Scott and the Florida Legislature on making Florida one of the best places to do business in the United States, and looks forward to working with our state's leaders on the issues relevant to the multitude of industries that fuel Florida's economy this session," concluded Feeney.
You my view an electronic version of AIF's 2016 Session Priorities publication by using this link. This publication is distributed to all 160 members of the Florida Legislature, the Florida Cabinet and Agency Secretaries, as well as AIF membership.
Known as "The Voice of Florida Business" in the Sunshine State, AIF has represented the principles of prosperity and free enterprise before the three branches of state government since 1920. A voluntary association of diversified businesses, AIF was created to foster an economic climate in Florida conducive to the growth, development, and welfare of industry and business and the people of the state.
For more information on AIF, please visit AIF.com and follow @VoiceofFLBiz.
+ View Session Priorities (Web Page)
+ View Session Priorities (PDF)
# # #