January 29, 2016
Washington, D.C., January 29, 2016 – National Association of Manufacturers (NAM) President and CEO Jay Timmons delivered his 2016 State of Manufacturing address today at Port Tampa Bay in Tampa, Fla. The event, co-hosted by the Associated Industries of Florida (AIF), Port Tampa Bay and the Tampa Bay Partnership, is the latest in a series of stops throughout seven states over the next week to highlight the vital role the industry plays in the U.S. economy and the changing perceptions of manufacturing.
"Today's modern manufacturing doesn't always look like yesterday's. We are sleek, high-tech and innovative, and manufacturers continue to drive economic growth in the United States," said Timmons. "The manufacturing industry is leading an innovation revolution that will win jobs for America, raise standards of living and restore our nation's standing around the world. Modern manufacturing touches every aspect of our lives, and it's the backbone of our economy. Our industry is about the men and women who make things in America; it's about their creativity and the potential we can unleash. Now is the time to embrace a manufacturing resurgence to protect and promote American Exceptionalism."
As part of the 2016 State of Manufacturing Tour, Timmons is visiting with local manufacturers, employees, students, business and community leaders and elected officials across New Hampshire, Florida, South Carolina, Pennsylvania, Illinois, Texas and Maryland. Timmons is highlighting the real-world solutions needed to allow the U.S. economy and manufacturers to thrive. Manufacturing supports an estimated 18.5 million jobs in the United States, including 336,300 jobs in Florida, and contributes $2.17 trillion to the U.S. economy.
At Port Tampa Bay, Timmons also showcased "Competing to Win: Manufacturers' Agenda for Economic Growth and American Exceptionalism"—a roadmap to guide manufacturing voters and candidates as they navigate the upcoming elections.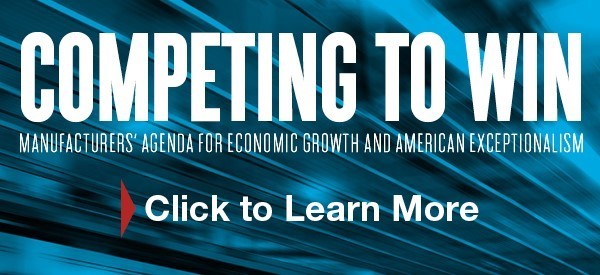 "It is encouraging to hear candidates on the campaign trail talk about manufacturing, but we want more than just talk," Timmons said. "We must ensure the next president understands what a real manufacturing agenda looks like. Members of Congress and candidates for office need to know what policies to pursue. We want voters to see what solutions a candidate who truly supports manufacturing and is focused on growth will embrace."
AIF President and CEO Tom Feeney joined Timmons for this leg of the tour.
"As Florida's leader in manufacturing and Florida's affiliate for the NAM, we are thrilled to be a part of this year's State of Manufacturing Tour," said Feeney. "The manufacturing sector in the Sunshine State not only represents the highest indirect job creator of any employment sector, but it is also a significant provider of high-wage and value-added jobs. However, there is still more we can do to further expand upon this robust industry. We look forward to joining with the NAM, as well as regional business and community partners, to discuss the future of manufacturing and how we can continue to grow and diversify Florida's economy."
The agenda outlines the challenges manufacturers face as well as much-needed public policy solutions. The issues include tax; trade; energy; environment; transportation and infrastructure; labor; immigration; workforce; health care; research, innovation and technology; and regulatory and legal reform.
To read an op-ed by Timmons and Feeney in today's Tampa Tribune, click here.
Members of the media interested in learning more about the 2016 State of Manufacturing Tour should contact Jennifer Drogus at jdrogus@nam.org.
To follow the tour on Twitter, visit @ShopFloorNAM and #StateofMFG.
-NAM-
The National Association of Manufacturers (NAM) is the largest manufacturing association in the United States, representing small and large manufacturers in every industrial sector and in all 50 states. Manufacturing employs more than 12 million men and women, contributes $2.17 trillion to the U.S. economy annually, has the largest economic impact of any major sector and accounts for more than three-quarters of private-sector research and development. The NAM is the powerful voice of the manufacturing community and the leading advocate for a policy agenda that helps manufacturers compete in the global economy and create jobs across the United States. For more information about the National Association of Manufacturers or to follow us on Shopfloor, Twitter and Facebook, please visit www.nam.org.
733 10th St. NW, Suite 700 • Washington, DC 20001 • (202) 637-3000
# # #