Join Us
The AIF Summit will provide an opportunity for AIF Members and other business leaders from across the state to discuss policy and advocacy issues with members of Congress. You'll hear insights into today's complex legislative and regulatory landscape as we dig deep on the issues that directly impact Florida and your business.
Policy & Advocacy
| | |
| --- | --- |
| • | Tax Reform and Insurance Regulation |
| • | Federal Regulation on Florida Water Policy and Land Use |
| • | Changes to the Health Care System |
| • | Opportunities and Challenges to Florida's Transportation, Ports and Infrastructure |
| • | Manufacturing, Aerospace and Defense |
Networking
| | |
| --- | --- |
| • | Network with other Business Leaders |
| • | Exclusive Access to Key Congressional Leaders |
| • | Updates from Policy Experts from NAM on Business Issues |

For more information please contact AIF President & CEO, Tom Feeney at tfeeney@aif.com or by phone at (850) 224-7173.
There will also be a Meet & Greet Reception for participants that will be well attended by members of Congress.
Lunch Keynote Speaker
Congressman Bill Shuster (R-Pennsylvania)
Chair, Transportation & Infrastructure Committee
Read Full Bio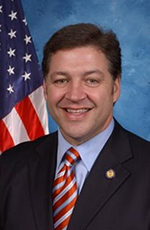 Throughout his career in the House, Congressman Bill Shuster has proven himself to be a leader on local and national issues, and an outspoken advocate for the people of the 9th Congressional District of Pennsylvania.
As Chairman of the House Transportation and Infrastructure Committee, Shuster continues to work to secure important funding for roadway projects in the 9th district as well as infrastructure improvements throughout Western Pennsylvania. One of the largest committees in Congress, the Transportation and Infrastructure Committee currently has jurisdiction over all modes of transportation: aviation, maritime and waterborne transportation, roads, mass transit and railroads.
Agenda

September 11th

September 12th

3:00 - 5:00 pm
10:00 - 11:45 am
NAM Hosted Policy Briefings at
NAM Office
Policy Briefings from Congress at
House Office Building
6:00 - 7:30 pm
12:00 - 1:30 pm
Reception at
Capitol Hill Club
Lunch with Keynote Speaker, Congressman Bill Shuster at Capitol Hill Club
8:00 - 9:30 pm
1:45 - 3:30 pm
VIP Dinner with Special Guest
(Gold Sponsors Only)
Location TBA
Policy Briefings from Congress at
House Office Building
3:30 - 5:30 pm
Individual Meetings with Members of Congress
AIF to assist with scheduling as needed